Standing By – Stefan Van Voors
While I was in the USA the past few weeks I had the privilege of meeting with Dee and Deb of The Wartburg Watch along with about 12 former members of Sovereign Grace Churches.  Many of these former members are the parents of children who were sexually abused while attending Sovereign Grace churches or functions. While I didn't have time to listen in depth to everyone's stories that evening, I was able to listen to several of them and their stories are gut wrenching.  It is beyond my comprehension how pastors can cover up the abuse that has occurred; beyond my comprehension how other pastors continue to accept offers to be a guest preacher at C.J. Mahaney's run-away church plant; beyond my comprehension how other pastors can continue to promote Mahaney's books and beyond my comprehension how Christian book stores can continue to sell Mahaney's books.
Also while I was in the USA Judge Terrance McGann sentenced Nathaniel Morales to 40 years in state prison for molesting at least four boys during the 1980s. The abuse occurred while Morales ministered at Covenant Life Church in Gaithersburg. (C.J. Mahaney was senior pastor at the time.)
Judge McGann ripped into Morales quite severely calling him a "cowardly pervert" and "pathetic human being."  Jeremy Cook one of Morales' sexual abuse victims,  asked McGann to impose a lengthy sentence. Cook stated that he and his fellow victims are upset with former church elders at Covenant Life Church who, investigators say, tried to cover-up Morales' sexual abuse for decades. Cook said the pastor's "concealment is something they'll have to live with the rest of their lives." 
"The reason I am here today is so that he (Morales) can never have the opportunity to hurt someone else," Cook said.
In an interview after the hearing, Cook said one reason he has been so public about what happened to him is to let victims know that it is never too late for them to step forward.  Over the past two years, he said, about a half-dozen people have told him that they have done just that.
"It shows you that even from something horrible, something good can come out," Cook said.
During the trial Grant Layman, a pastor at Covenant Life Church and brother in-law of C.J. Mahaney, testified under oath that CLC pastors knew of the abuse and believed they were required to notify authorities, but did not.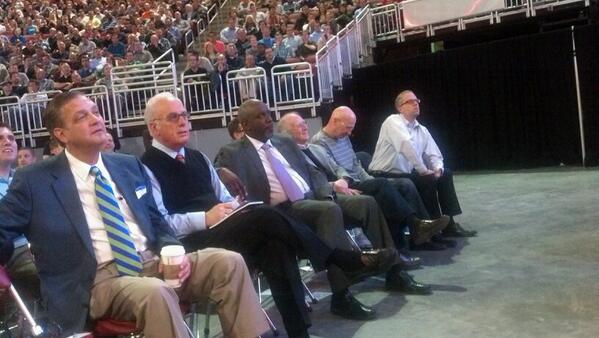 You may be wondering how this information relates to Kevin DeYoung and C.J. Mahaney.  Well, C.J. Mahaney was the senior pastor at CLC during the period that Nate Morales was sexually abusing young boys.  Although Mahaney has made the following statement:
"I have never conspired to protect a child predator, and I also deny all the claims made against me in the civil suit."
Susan Burke, a lawyer for the plaintiffs in a class action lawsuit against C.J. Mahaney and SGM had this to say:

"Well if you look at the contrast between what C.J. Mahaney and the various church leaders have stated about the flat denials and then you look at the sworn, under-oath testimony  that came out in the Morales trial you see a clear discrepancy. Obviously we are hopeful we will get  to a trial, in which case all the testimony will be under oath and we believe we have the evidence needed to prevail."
Additionally, Tullian Tchividjian had this to say about Mahaney's knowledge of the abuse and cover-up in his church:
"Give me a break. These people, they're family. Of course he knew," Tchividjian told The Christian Post. "C. J. was, for many years, the micro-managing head of the organization and nothing happened under the umbrella of Sovereign Grace that he wasn't made aware of, so for anyone to say, 'Well he didn't know,' that's totally naive."
Tchividjian added that he was "pretty disturbed" when Don Carson, Kevin DeYoung, and Justin Taylor published a statement on TGC website in May 2013 which defended Mahaney, saying that it looked "like the good-old boys club covering their own."
I agree with Tchividjian's assessment.  Yet, on August 3, 2014, Kevin DeYoung joined a long list of celebrity preachers who have chosen to preach at Mahaney's church.  DeYoung's preaching there was particularly outrageous behavior in light of the recent conviction of Nate Morales and the sworn testimony of Grant Layman that CLC  pastors knew of the abuse yet did not alert authorities (or other families in the church.)  DeYoung's preaching at Mahaney's church show him to be naive, lacking in discernment, lacking in love for the abused and their families and more concerned with maintaining his friendship with Mahaney and his status in the "good 'ol boys club." This club is small in number and the key to remaining a part of it is to remain loyal to your fellow members no matter the cost. Being a member is quite lucrative.  You all endorse each others books, invite each other to speak at your home church, and share the conference platform together.  You even frequently join together to pump more books into the Christian marketplace, just to ensure your name stays "out there" among the gospelly crowd of celebrity pastor worshippers.
You should take the time to listen to DeYoung's sermon because the first 20 minutes of the 45 minute sermon are funny stories that DeYoung spins quite masterfully. (He has fine-tuned them since I heard them at UCCD several years ago.)  
The first thing I noticed about DeYoung's sermon is that it appears that the tape editors at Mahaney's church have deleted the opening comments – the mandatory 2 or 3 minutes where the guest preachers all tell Mahaney how great he is, and how lucky the church members are to sit under his divine teaching. Invariably these comments are quite embarrassing to the speaker when they are printed out, so now they have chosen not to broadcast them.  
The second thing I noticed was DeYoung's sermon is a carbon copy of what he has preached many times before.  (A common trait among the "crazy busy" celebrity preachers.)  Here is an earlier version of the same message DeYoung preached at Mahaney's church, it's not quite as polished, but you get the idea.
[youtube https://www.youtube.com/watch?v=wSEoZ-A663M&w=853&h=480]
Just for old-times sake let's go back an read Kevin DeYoung's statement of support for Mahaney.  While these celebrities could sorta, kinda sound credible pumping out this bilge prior to any trials, their words lack any credibility whatsoever at this date.  I have actually been expecting The Go$pel Coalition and Together for the Go$pel to issue retractions to these statements because, frankly, they are an embarrassment to their organizations.  Judging by the fact that DeYoung just spoke at Mahaney's church I think it's safe to say there will not be any retractions printed in the near future.
A Statement from Don Carson, Kevin DeYoung, and Justin Taylor
"… It needs to be said in no uncertain terms that the actual acts alleged in the lawsuit are utterly evil—an offense against a holy God and an act of hatred against innocent children. They are horrifying and revolting. Apart from repentance, they are damning. There is no excuse, at any time or in any place or for any reason, for the use of children for sexual pleasure. Pastors who learn of such abuses should contact the appropriate authorities immediately, institute church discipline, and apply the whole counsel of God (including both law and gospel). Every church should have a clear child protection policy, and in every situation of abuse the victims must be assured that they are not responsible for the crimes committed against them. Furthermore, pastors are responsible to obey all mandatory reporting laws, alerting law-enforcement officials and fully cooperating with all investigations. This is not an alternative to church discipline and gospel counsel, but a necessary and complementary role of divinely instituted civil authorities.
… Another reason we have remained silent is because we have detailed charges from one side, but essentially no defense from the other side. Scripture warns us about what often happens in such a situation: "The one who states his case first seems right, until the other comes and examines him" (Prov. 18:17). Can anyone say with certainty who is innocent and who is guilty in these multiple allegations spanning several decades? This is why we have courts, and why the Bible calls us to prudence. If we must denounce and separate from everyone or every ministry facing serious allegations, any one of us could be publicly ruined in a matter of days by nothing more than accusations. High-profile Christians are sometimes targeted not because they are guilty, but because they are well known. While those who are shown to be guilty should be exposed with rigor and with tears, surely as brothers and sisters in Christ we must understand how much gain there is for those who hate the gospel when Christian leaders are unfairly attacked and diminished. We agree with the Heidelberg Catechism that obeying the ninth commandment requires more than telling the truth; it means we do not "join in condemning anyone without a hearing or without a just cause." Instead, "I should do what I can to guard and advance my neighbor's good name" (Q/A 112).
We are not ashamed to call C.J. a friend. Our relationship with C.J. is like that with any good friend—full of laughter and sober reflection, encouragement and mutual correction. He has regularly invited—even pursued—correction, and we have given him our perspective when it is warranted. While the admission of friendship may render this entire statement tainted in the eyes of some, we hope most Christians will understand that while friends should never cover for each others' sins, neither do friends quickly accept the accusations of others when they run counter to everything they have come to see and know about their friend. We are grateful for C.J.'s friendship and his fruitful ministry of the gospel over many decades.
Conclusion
We are not in a place to adjudicate all the charges leveled against Sovereign Grace Ministries or the specific individuals named in the lawsuit. The purpose of this statement is not to render a verdict on the charges, nor in any way to trivialize the sins alleged. We realize some will construe this post as confirmation of their worst suspicions, but we trust most of our brothers and sisters will be able to consider our explanation with an open heart and a fair mind. Our silence was not decided upon lightly; neither was our decision to break this silence. Our prayer is that one day—and please, Lord, soon—all who face injustice of any kind will see the Lord bring forth his righteousness as the light, and his justice as the noonday (Ps. 37:6)."
Kevin DeYoung – Gospel Coalition council member and signer of the statement to support child sexual abuse/cover up lawsuit defendant C.J. Mahaney.