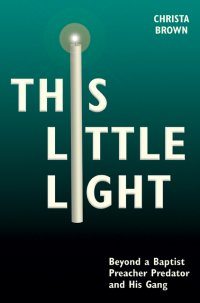 "Elana was one of the first people to whom I dared mention that I was sexually abused by a Baptist minister. I tried to segue into it in the middle of some bit of talk about some cover-up connected to local politics. It seemed to fit at the time, but I guess it wasn't as smooth as I thought because Elana came to a stand-still on the trail. She immediately saw the significance of my small statement  and of the fact that I had never previously spoken of it.
Through the pink crepe myrtles of summer and the red sumacs of fall, Elana continued to listen as my story unfolded on our weekly walks. While we fended off angry geese, she watched me work at coming to terms with the blasphemous brutality of what a Baptist minister did to me as a kid.
Week by week, she also saw my mental state deteriorate as I struggled with the uncaring, oblivious responses of church and denominational leaders."
-page 78, "This Little Light: Beyond a Baptist Preacher Predator and His Gang"
Some things never change.  Below is a recording of John Piper, Mark Dever and Wayne Grudem, three prominent Christian "leaders" who, in spite of the knowledge that C.J. Mananey has covered up sexual abuse in his church and blackmailed the co-founder of his ministry, were thrilled to speak at his church.  The "good 'ol boy" network is alive and well.  Meanwhile the victims of sexual abuse are ignored and shunned by not only these leaders, but by all Christians, who with knowledge of this situation, continue to purchase these men's books and attend their conferences.