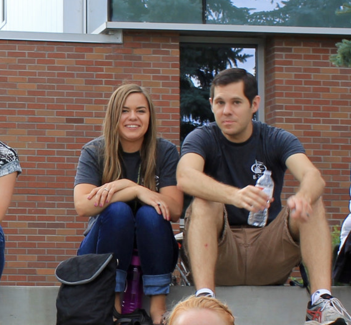 Mary and Caleb Beery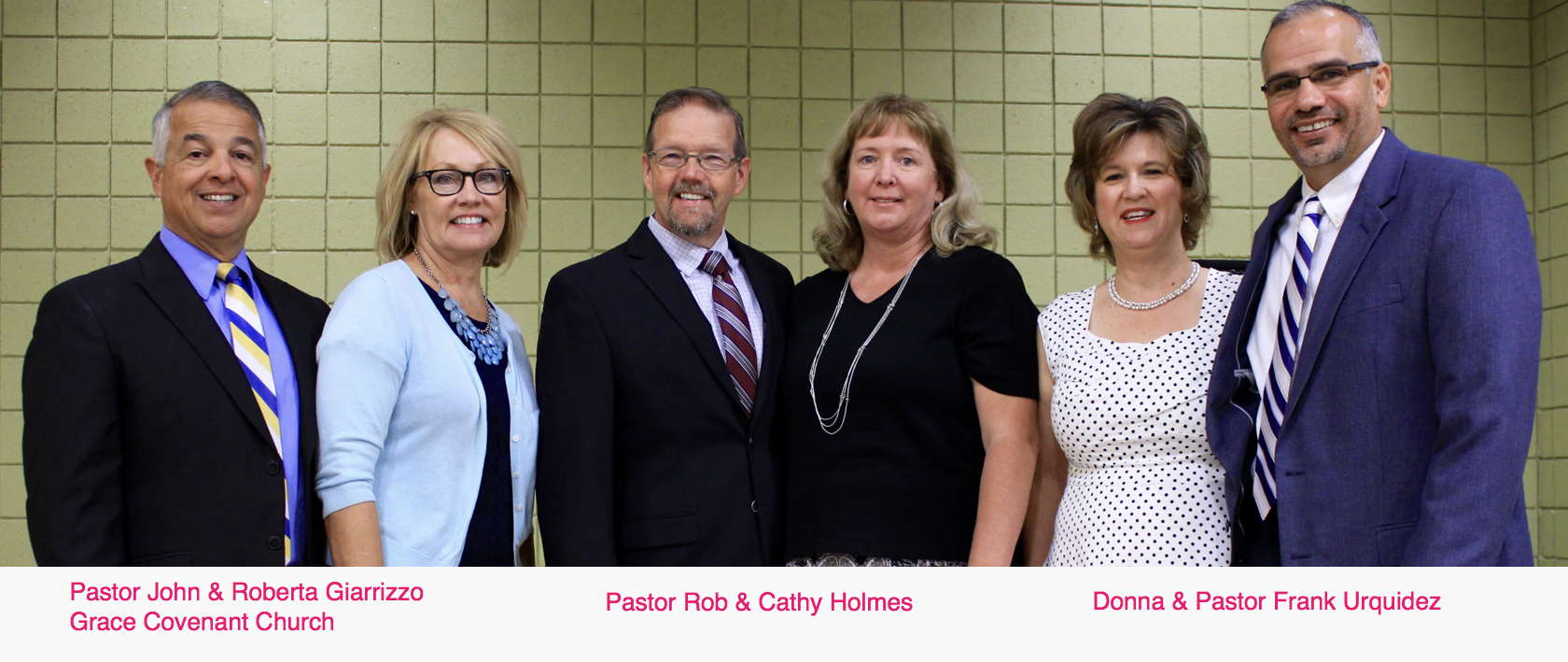 Caleb and Mary Beery, currently members of San Tan Reformed Baptist Church (an ARBCA church) have both been charged with three felony criminal counts of child/vulnerable adult abuse. The alleged abuse occurred between January 23, 2016, and February 20, 2017. The victim of the abuse was their foster daughter. According to the criminal charges the baby girl would have been between one and fifteen months old at the time of the abuse. The baby was removed from their home in March of 2017. She was then sixteen months old.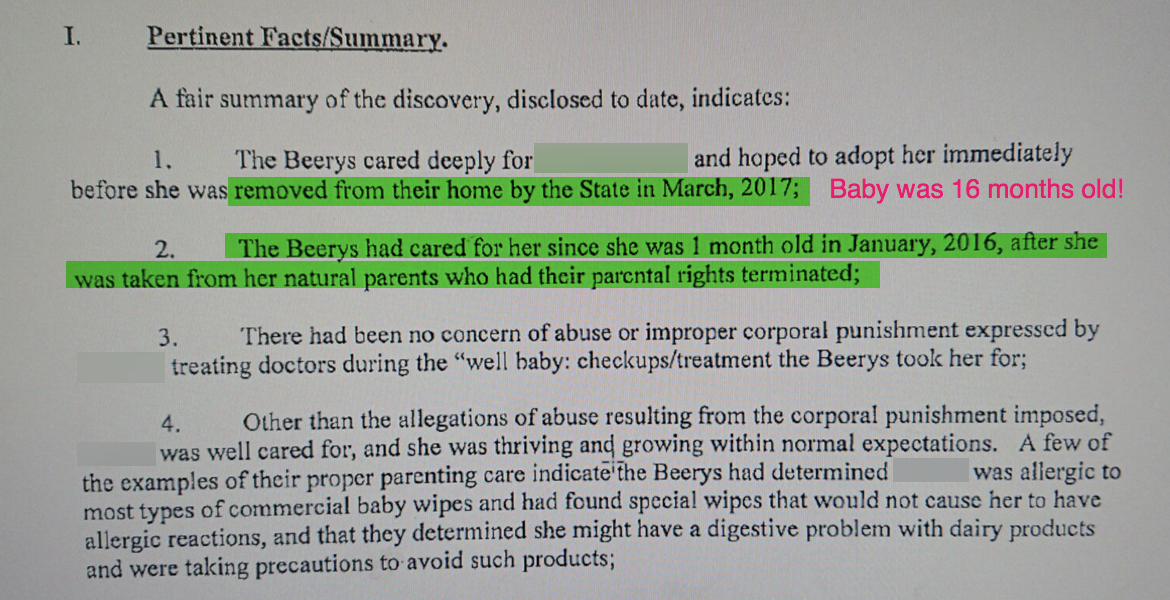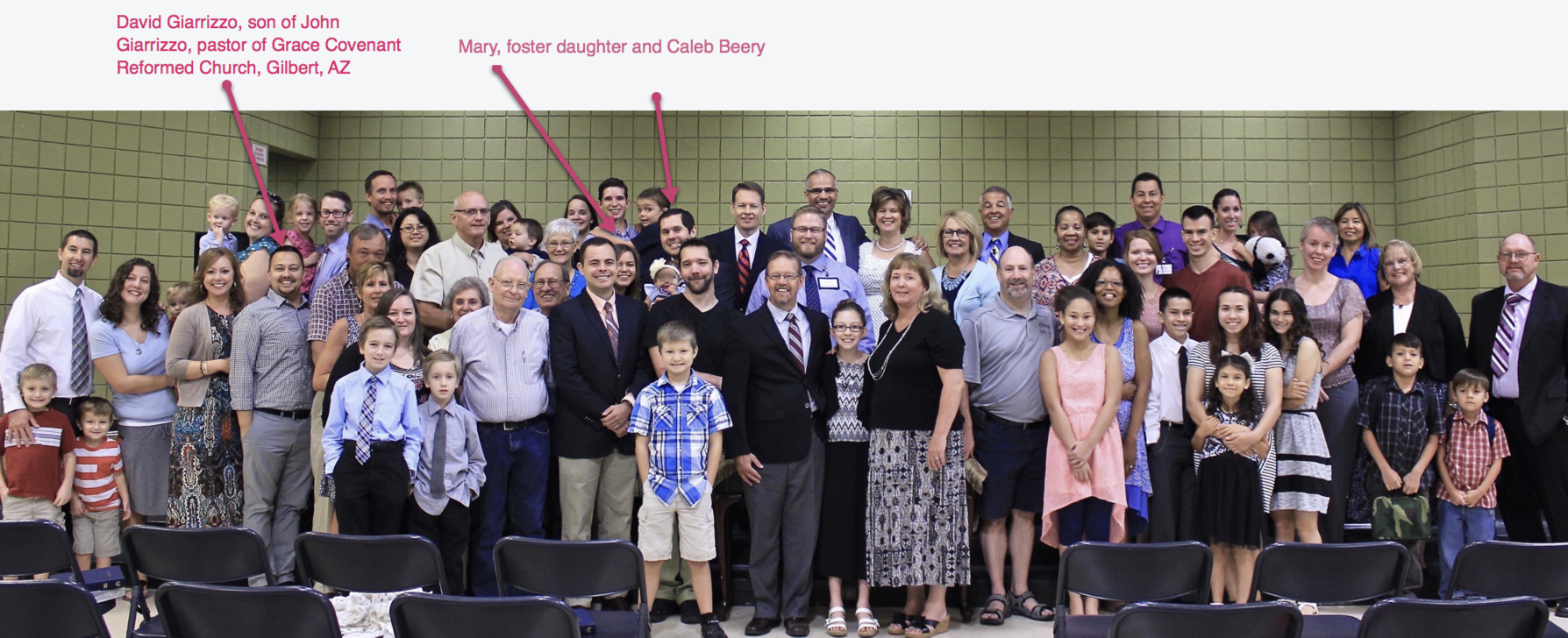 My source for this story told me that the baby was "disciplined" by "beating severely on the bottom to the point of deep bruises and blisters (much in the manner of Chantry, it seems).
(Editor's note: I had originally reported parents of the Beery's reported the abuse to authorities.  I later was told that a church nursery worker was the one who first noticed the abuse and reported it.)
Among the court documents were several letters from family members which testified to what fine, upstanding individuals Caleb and Mary Beery are. Below is a copy of a letter written by Mary's brother. I don't know who the genius was that recommended this letter be included in the submission to the Court, but I believe it had the opposite of its intended effect.  This guy is some kind of crazy.
Take note of these sentences:
"This love compelled them to seek to do the most good for [her] in every way possible."
Tell me again how beatings, burnings, and scaldings in any way seek to do the most good for the baby?
"I observed a zeal and passion from Caleb and Mary to do the very best for [her], which prompted them to seek compliance in areas where they felt [she] was disobedient."
I can't even… I guess that little one-year-old girl just wasn't being compliant when she continued to mess in her diaper. But not to worry,  its nothing a good beating can't remedy!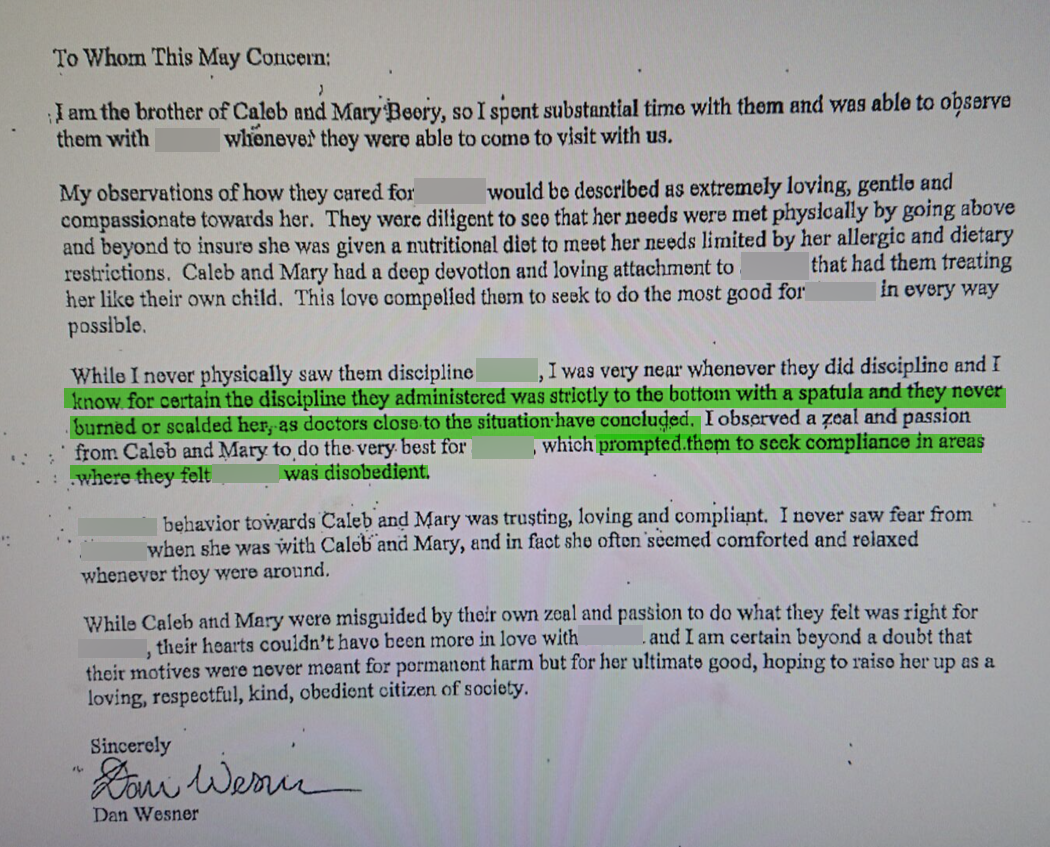 Prior to getting to legal considerations let me say that my wife and I served as foster parents many years ago in Missouri. We had to sign a legal document stating that we would not use corporal punishment on any foster child. I have heard that Arizona has similar documents. Therefore, regardless of your opinions on corporal punishment, you have given your word that you will not spank a child left in your care by the State. End of story.
Discipline

The goal of discipline is to teach the child self-control, self-reliance, self-esteem and orderly conduct through approved and prescribed interventions. Use of unacceptable methods of discipline upon children in state custody will not be tolerated under any circumstances. Resource parent will not

punish or maltreat a child and will not allow any other person to do so. Family Foster Parent Licensing Requirements, AZ R6-5-5833, specifies that punishment or maltreatment of a child or youth in care includes but is not limited to the following actions:

any type or threat of physical hitting or striking inflicted in any manner upon the body;
Note to all those whose critical thinking skills are negligible, if you hold to the belief that corporal punishment is mandated by the Bible don't become a foster parent!
May I also add that if you think the Bible mandates that you beat a baby please refrain from having any children.
Additionally, if you are attending a church that encourages you to spank a one-year-old child I would suggest finding a new church.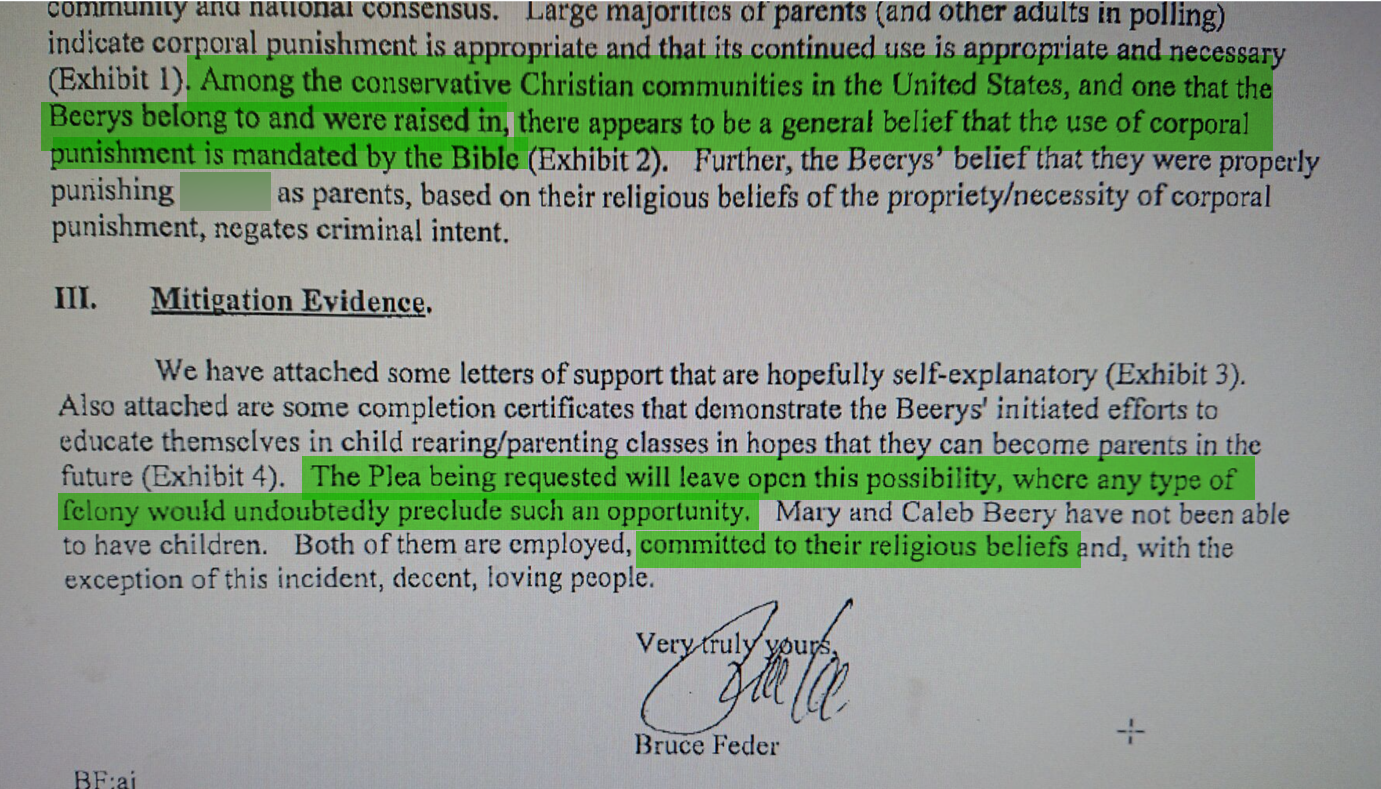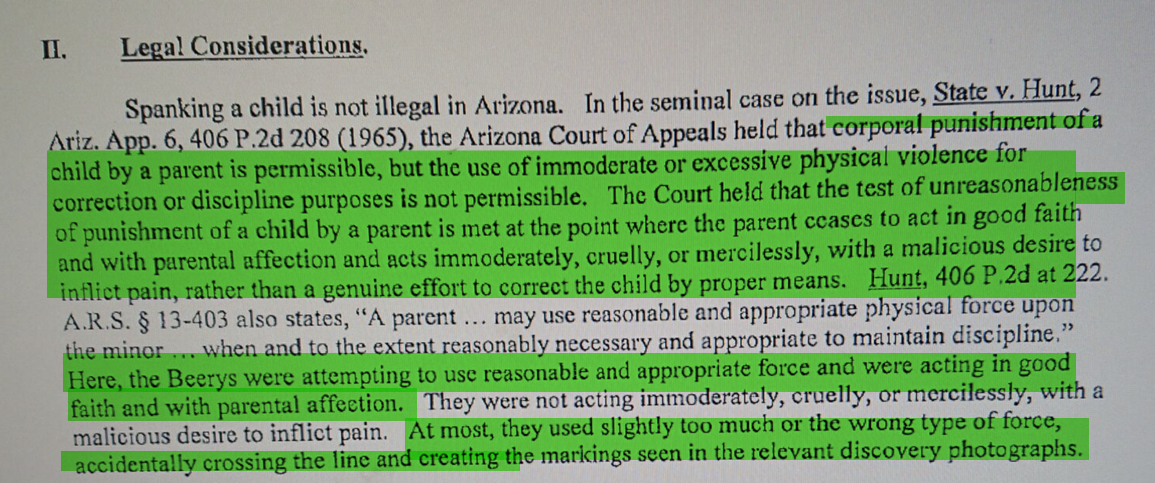 "At most, they used slightly too much or the wrong type of force, accidentally crossing the line and creating the markings seen in the relevant discovery photographs."
Slightly too much? I guess that is why you are hoping to cop a plea so as to keep the photos of the beaten and bruised baby out of the eyes of the public. Remember brother Dan's letter above? He just knows the doctors who examined the baby and concluded that she was burned and scalded were wrong.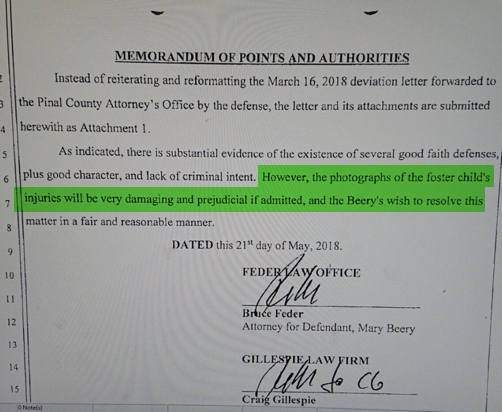 Now we get down to some really good lawyering. Bruce Feder, Mary Beery's defense attorney,  apparently argues that under the First Amendment the Beerys have a religious right to beat their foster baby! Therefore, he argues the felonies should be plead down to misdemeanors and the defendant given supervised probation!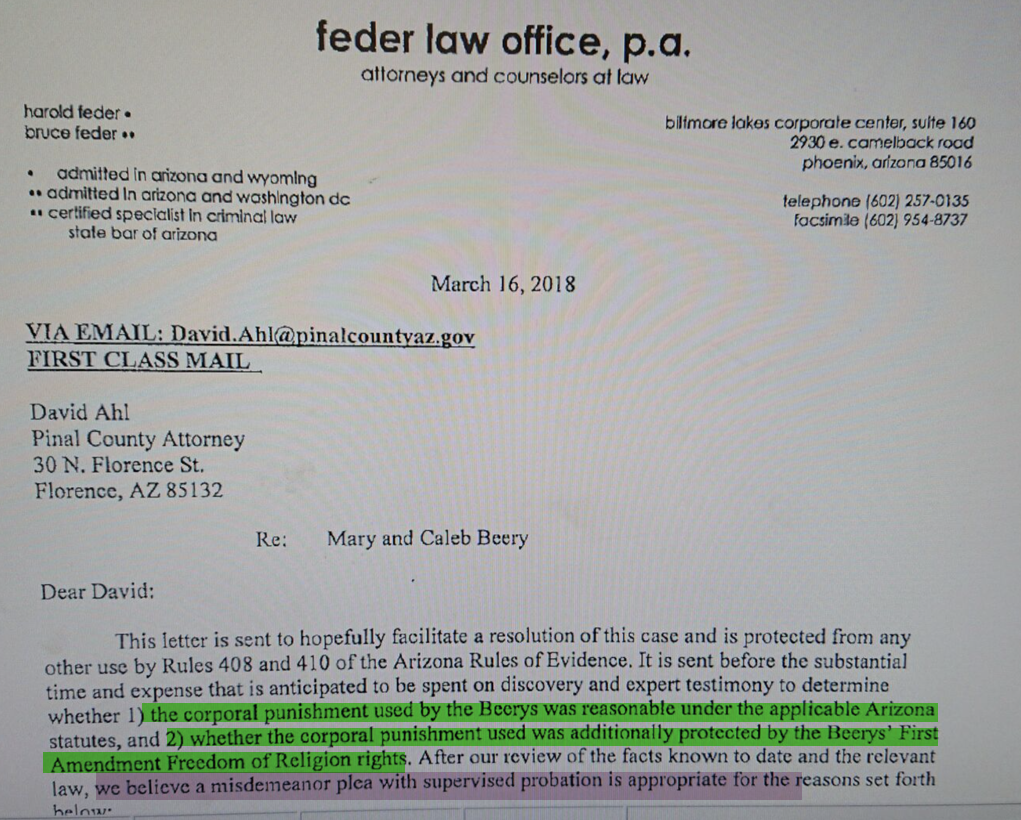 It appears the State didn't agree with the Defense. They apparently had a meeting scheduled for June 25 where the Defense hoped they could wrap everything up. I think the State must have balked at dropping the felonies to misdemeanors, instead likely insisting on some prison time. The result was the Defense pulled out of the negotiations and as it stands a trial will be held in October.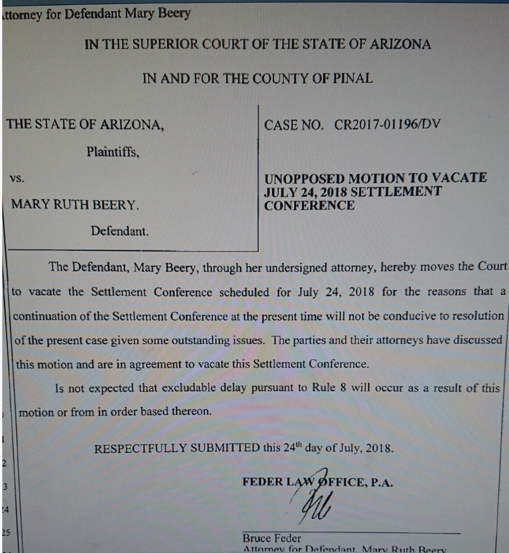 "The child's problem is not an information deficit. His problem is that he is a sinner. There are things within the heart of the sweetest little baby that, allowed to blossom and grow to fruition, will bring about eventual destruction."
― Tedd Tripp, Shepherding a Child's Heart

"Respectful teenagers are developed when they are 1, 2, 3, 4, or 5, not at 13, 14, 15, or 16."
― Tedd Tripp, Shepherding a Child's Heart
"Tedd Tripp is Pastor Emeritus of Grace Fellowship Church in Hazleton, Pennsylvania, where he served from 1980 until 2012.  Tedd is the author of A Parent's Handbook for Shepherding a Child's Heart, Hints for Parents, and with his wife, Margy, Instructing a Child's Heart."
Source
(Editors note: I had previously stated Tedd Tripp's church was a member of ARBCA but was told they left ARBCA in 2002. My apologies to Grace Fellowship Church and Tedd Tripp.)
Though Tripp was no longer connected with ARBCA, it seems his teachings may still have been influential in some ARBCA churches. Obviously, Tripp would never advocate the abuse which occurred in this case, but it's concerning how some zealous individuals have carried the discipline of children to dangerous extremes.
Here is a condensed video of a Tedd Tripp interview. It seems to me to be a very short leap from what he is advocating to what the Beery's stance on discipline seems to be. (To view the complete video, see here.)
Tedd Tripp teaches 1) employ the rod at the first sign of defiance; 2) apply the rod with the diaper or drawers down so the child feels the sting on their bottom or thigh 3) best to apply the rod with the child over your lap so there is a physical connection between you and the child and 4) hug the child afterwards – if they are not accepting of the hug or their heart is not yet sweet, continue to use the rod until it is!
Additionally, here is a short segment from a sermon preached by Frank Urquidez which, I believe,  may shed some light into the Beery's treatment of their foster baby.